i aI accidentally deleted some pages but I don't know how to get them back, is there any possibility
How did you delete these pages?
Did you also erase them from the trash bin (https://yourdomain.com/manager/?a=resource/trash)?
We didn't touch anything from the trash can
I just don't know where I can find the trash can on modx
There is a trash icon in the head of the resource tree.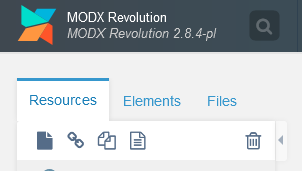 If you still can see the deleted resource in the resource tree, you can also right-click on the resource and select "Undelete" from the menu. Or open the resource and uncheck the "Deleted" checkbox.
where can i find a specific files if not show in trash can
So what exactly did you delete?
If you just deleted a file from the file system, then there isn't a way in MODX to get it back.
I have deleted the file from resources
I'm sorry, but I'm still very confused.
Did you delete a resource (an entry from the tree in the tab "Resources") or a file (an entry from the tree in the tab "Files")?
---
In general: Depending on where you host your website, your site may be backed-up periodically. So if you are lucky, you can maybe restore a deleted file from a backup (or a deleted resource from a backup of your database).
If you've deleted a physical file, this won't help you, but if you are talking about pages you created in MODX, you should absolutely be using the plugin VersionX, if you're not already. VersionX keeps copies of every edit you make to your pages (or "resources" in MODX terminology), so you can easily revert to any previous version of a page. You can even restore a page that you have deleted and permanently removed using the trash manager.